Kyou, my Dream Realm Black Crow I got to cosplay Sebastian, was advertised with photos like this: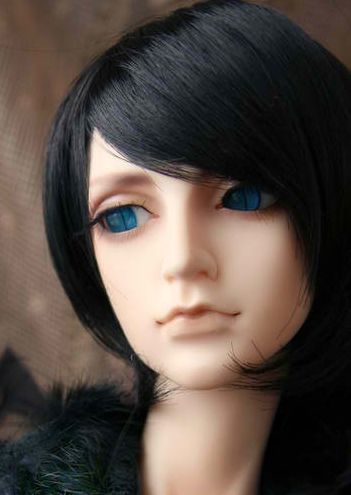 JunkySpot
had a white skin Black Crow in stock here in California, with a factory face up, so I bought him. He was my first doll after buying Ciel (Lati Doll Red) second hand from a friend, and I was completely over the moon about getting him. When he finally arrived, I opened the box and grabbed my cell phone, and took photos. This was the only one I uploaded to Photobucket and still have after 2 years. It's small, too bright, and blurry at this resolution, but yeah, a bit much on the eyeliner? And even in this overexposed photo, you can see how dark his cheeks were colored.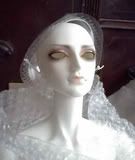 I know when you order a factory painted doll, you get varied work compared to the showcase photos, but that's twice as much eye paint as expected. But, I lived with it.
He also has strong features and not many good angles to be photographed from. In fact, he's almost like their Antonio doll, a very striking sculpt in a lovely arrogant and dissipated way, but not the characterization I wanted. Kyou's make up was slightly more heavy, the eye liner being nearly twice as wide a stripe of black on his upper eyelid, than the Antonio in the company photo.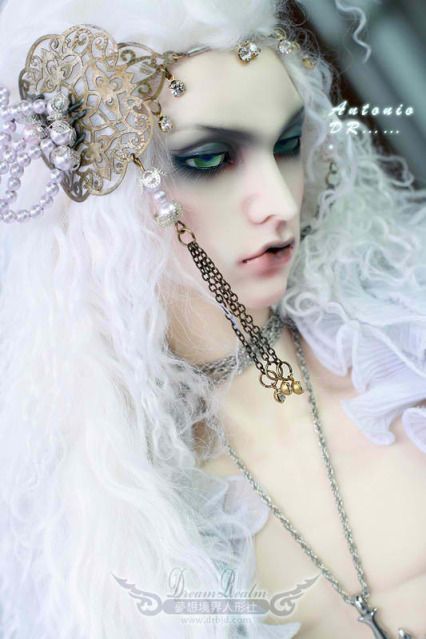 So over two years, the more dolls I got that were blanks and I painted myself, the more out of place poor Kyou started to look. I started keeping an eye out for a "look" that might fit him better when I got the nerve to remove the factory face.
Today I found this doll, and yeah, I wanted it! Isn't he gorgeous?
The budget, however is not co-operating. And SpiritDoll isn't offering Celtis blank heads at the moment.
Then I realized that what made me want the Celtis so much, is that he looks so much like Kyou should! I'd found the face up style I wanted.
So I finally stripped that factory face up off Kyou. I could not believe how thick the paint was layered around his eyes! I also did some plastic surgery, softening the point of his nose and the harsh lines of his mouth. I didn't want to make him look just like Celtis, but now he looks more like the original photos from the company had me thinking he would look.
Gah, why can't I take the same focus photo twice in a row, all I did was rotate his head a little, same light, same settings, same distance, anyway, front and side view. He has changeable ears, that's why they aren't there. And yeah, his ears were dead white next to that over painted face. Now they match his cheeks again.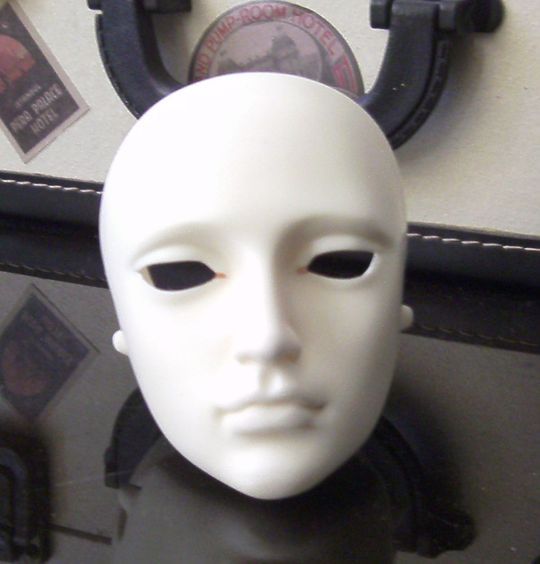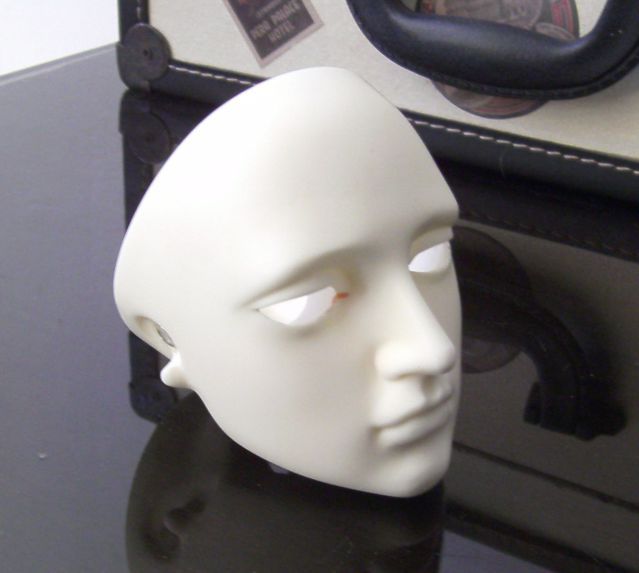 .
I used clear, non-acetone, unscented fingernail polish remover (Not recommended, really!). I worked with paper towels and cotton swabs, as quickly as I could so the chemical wouldn't soften the resin. Then I washed him off in dish soap and lukewarm water, rinsed him thoroughly and dried him carefully with the softest towel I had, so it wouldn't scratch the surface. Just to be safe, I'm actually exercising patience and letting him dry out for a week before I seal him again and paint him.
I love Celtis' mushroom and old rose tones, so I'll practice with them first while I wait. I'm not an artist, and a total amateur, so I refer to
Keven Aucoin's
make up books for tips on how to paint doll faces.
I think once Kyou is done, I'll be much happier dressing him for photos. He's been kind of neglected, with the other dolls gradually swiping his wardrobe. He'll look great in 18 and 19th century costumes with his strong features, too.